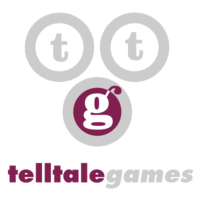 "
Point on this, click on that. How 'bout I use MY fist on YOUR face, Telltales
.". -
Strong Bad
on Telltale's games that have nothing put pointing and clicking on things.
Telltale was incorporated in June 2004. When developing games, they use the label Telltale Games. They developed Poker Night at the Inventory and Poker Night 2.
The company was founded in 2004 by former employees of Lucasarts which had canceled development of the anticipated point and click adventure game starring Sam & Max, Sam & Max: Freelance Police which was to be a sequel to Sam & Max Hit the Road. Telltale's first game was Telltale Texas Hold'em, a casual poker game that was intended as a test for the in-house Telltale Tool engine, and was the basis for the later games Poker Night at the Inventory and Poker Night 2.
After a failed attempt at making an episodic series of point and click games retelling Jeff Smith's Bone comics, Telltale acquired the rights to Sam & Max and created Sam & Max: Season One (Now known as Sam and Max Save the World). The game was a commercial and critical success, and is viewed by several game publications as the first successful application of the episodic game design model. Telltale went on to make more episodic games, including two more seasons of Sam and Max, a season starring Strong Bad of Homestar Runner titled Strong Bad's Cool Game for Attractive People, and Tales from the Borderlands, based on Borderlands, which featured a cameo by Claptrap.
Creation of the games set in The Inventory
Edit
On May 15, 2009, Telltale Games started a survey which was meant to gauge fan reaction to a sequel to Telltale Texas Hold'em. One of the survey fields regarded a potential sequel's name, ranging from Telltale Texas Hold'em Insanity to more joke related titles such as Unprofessional Poker and Dogs Playing Poker. The sequel would later be revealed to be Poker Night at the Inventory, a game which featured characters crossing over from multiple franchises, and would bear a title unrelated to the original.
On May 5, 2010, Telltale Games announced the Telltale Games pilot program, an initiative that was meant to foster innovation within the company and test the waters with gameplay concepts unlike those found in Telltale's regular seasons, and would be used as a testing grounds to gauge whether the games were successful enough to warrant a sequel.
On August 28, 2010, Telltale unveiled a teaser trailer that showed the silhouettes of Strong Bad, Max, The Heavy, and Tycho Brahe. On September 2, 2010, the game was revealed to be Poker Night at the Inventory, part of the Telltale Games pilot program.
News about a sequel to Poker Night at the Inventory began a few years after the release of the first game. On November 19, 2012, the North Bay Business Journal reported that Telltale partnered with Warner Bros. to develop a Poker Night at the Inventory game, which would be released in 2013.
On March 12, 2013, a few items were added to Team Fortress 2. These items were Sam's hat from Sam & Max, Handsome Jack's mask from Borderlands 2, Evil Ash's crown from Evil Dead, Chell's long-fall boots from Portal, and Brock Samson's knife from Venture Bros. All of the items began with with file prefix "PN2".
Telltale started a teaser website The Key Party where they released a keychain related to a character from the game every working day from March 25, 2013 until April 1, 2013 when the game was officially announced. The keychains on The Key Party website were a DeSoto keychain for Sam, the Necronomicon for Ash Williams, the big knife for Brock Samson, the eye from Claptrap, and a companion cube for GLaDOS.
Telltale had relations with every series involved in Poker Night at the Inventory prior to its development: Telltale had created games starring Max and Strong Bad. They ran a promotional deal with Valve involving pre-ordering Sam & Max: The Devil's Playhouse and receiving exclusive in-game items, which could be used by all characters, including The Heavy, for Team Fortress 2. In addition, Telltale has a long history with the Penny Arcade Expo, which was created by the creators of the Penny Arcade webcomic, Mike Krahulik and Jerry Holkins (the latter of whom has the alter ego Tycho Brahe, as portrayed in Penny Arcade).
After Claptrap from Borderlands appeared as one of the main characters in Poker Night 2, Telltale would go on to make a full season based on the franchise titled Tales from the Borderlands.
Community content is available under
CC-BY-SA
unless otherwise noted.