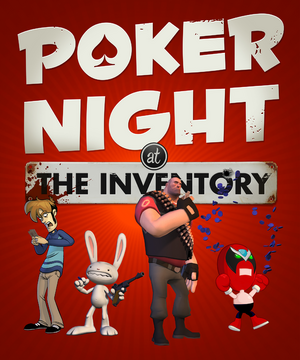 Poker Night at the Inventory is a no-limit Texas Hold'em poker game made by Telltale Games where characters cross over from many different video game franchises, and play poker at a hidden speakeasy known as The Inventory. The game is a spiritual sequel to Telltale's first game, Telltale Texas Hold'em. It was released for Windows and MacOS on November 22, 2010.
The game stars The Heavy from Team Fortress 2, Max from Sam & Max, Strong Bad from Homestar Runner, Tycho from Penny Arcade as opponents to The Player, with Reginald Van Winslow as the host and dealer.
History
On May 15, 2009, Telltale Games started a survey which was meant to gauge fan reaction to a sequel to Telltale Texas Hold'em. One of the survey fields regarded a potential sequel's name, ranging from Telltale Texas Hold'em Insanity to more joke related titles such as Unprofessional Poker and Dogs Playing Poker. The sequel would later bare a title unrelated to the original, Poker Night at the Inventory, when it was released in late 2010.