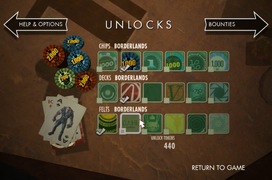 Like the first game, Poker Night 2 features items unlocked through play. Some of these are in-game prizes "where you can deck the entire Inventory in the theme of your choosing". Others are for use outside the game, and depend on what platform you are are playing on.
Ingame items
By winning tournaments you get special unlock tokens. You earn tokens based on your standing in the Tournament.
5th Place: No tokens.
4th Place: 10 tokens.
3rd Place: 20 tokens.
2nd Place: 50 tokens.
Winner: 100 tokens.
You can then spend these tokens on custom art styles for the Chips, Decks and Felts. There are six options for each of these: the default Inventory style, a style related to each of the four opponents, and a Portal style.
When the same style is unlocked and chosen in all three categories, the Inventory itself will be drastically altered to reflect that style. This also includes a special elimination animation for the first player eliminated, and a special victory animation if The Player wins the tournament.
Bounty Items
You must collect all four contestant bounties before GLaDOS' bounty will be offered.
Brock Sampson: The ORB
Claptrap: 2012 Spike TV VGA Award for "Character of the Year"
Ash Williams: Necronomicon Ex Mortis
Sam: Sam's Banjo
GlaDOS: Paranoia Personality Core.
Outside items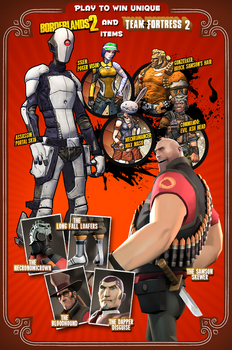 These items are unlocked by completing various challenges that appear in the game. Availability varies per platform.
Borderlands 2 items
Available on all platforms.
Are Y0u Still There (Aperture turret skin; for Assassin)
Bluffer's Bane (Poker visor; for Siren)
Guy With The Gun (Evil Ash head; for Commando)
Hippity Hoppity (Max mask; for Mechromancer)
Nothing Ventured (Brock Samson's hair; for Gunzerker)
Team Fortress 2 items
Available only on Steam.
PSN Premium Themes
Available only on PSN. Special themes where the characters "invade each other's worlds".
Army of Brockness (Brock & Mad Moxxie / parody of the Army of Darkness poster)
First Date (GLaDOS & Claptrap / Claptrap bashfully offers GLaDOS a rose in the overgrown Aperture Science garden)
Freelance Patrol (Claptrap & Sam / Escaping alien abduction)
I'm The One With The Guns (Ash Williams / Stocking up at the Gun and Ammo vending machines)
You Crack Me Up, Little Robot (Sam & P-Body / Sam stuck between looping portals by P-Body)
Xbox 360 avatar items
Available only on XBLA. Includes the following:
"Oh boy, your very own Bloodwing! Warning: You may lose an eye or two."
"Congratulations, you are now a test candidate! Activate GLaDOS to see the results."
"You now own the scariest book in history!"
"The secretly non-functional Orb is now yours to display! You're still pretty powerless, though."
Suit and Hoodie, Freelance Police (Sam's Suit for males, Max Hoodie for females)
"Make a fashion statement with your exclusive Sam & Max gear!"