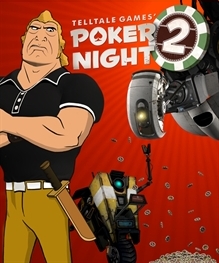 Poker Night 2 is the sequel to the original Poker Night game starring Sam, Brock Samson, Ash Williams and Claptrap as the opponents with GLaDOS as the dealer.
The game was released on Xbox 360's Xbox Live Arcade on April 24, 2013, then later released on April 26, 2013 for Windows and MacOS through Steam and on April 30, 2013 on PlayStation 3's PlayStation Network.
History
On November 19, 2012, the North Bay Business Journal reported that Telltale partnered with Warner Bros. to develop a Poker Night at the Inventory game, which would be released in 2013.
On March 12, 2013, a few items were added to Team Fortress 2. These items were Sam's hat from Sam & Max, Handsome Jack's mask from Borderlands 2, Evil Ash's crown from Evil Dead, Chell's long-fall boots from Portal, and Brock Samson's knife from Venture Bros. All of the items began with with file prefix "PN2".
Telltale started a teaser website The Key Party where they released a keychain related to a character from the game every working day from March 25, 2013 until April 1, 2013 when the game was officially announced. The keychains on The Key Party website were a DeSoto keychain for Sam, the Necronomicon for Ash, the big knife for Brock, the eye from Claptrap, and a companion cube for GLaDOS.
Glitches
Once in a while the game will think you have a hand lower then what is shown in your hand and on the table. For Example: You have in your hand Q,Q,6. and the table shows a Q,9,6,4,3. You can see that you have a 'Full House' (Q,Q,Q,6,6) but the game will see that you have '2 Pair' (Q,Q,6,6) instead which is a hand lower then 'Full House'. GLaDOS will say "the player has, two pair" when you can clearly see that you have a full house'.
This has also happened with 'Straights' becoming '2 Pairs', and 'Flushes' becomes '1 pair'.
Community content is available under
CC-BY-SA
unless otherwise noted.