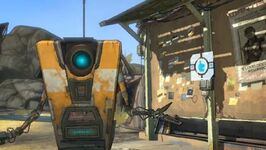 "I got a deck of cards in here. I'll even tell you what I have. I'm bidding three nil, but you should probably bid 4. spades... Ah come on, play with me!" - Claptrap
Claptrap is a non-player character and the mascot of the Borderlands series of games. He is one of the poker players in Poker Night 2.
Background
Smart-aleck robot Claptrap made his debut in Gearbox Software's Borderlands and also appeared in its sequels Borderlands 2 and Borderlands: The Pre-Sequel.
He also appeared in the promotional Claptrap Web Series.
A fine example of the CL4P-TP General Purpose Robots, he is friendly to a fault, charmingly eccentric, and probably even knows how to play cards.
The Team Fortress 2 unlock for Claptrap is Handsome Jack's mask. Once unlocked, it can be used by The Spy.
Claptrap's Borderlands 2 Unlock: Bluffer's Bane
A green visor that can be worn by Maya, the Siren. This is physically similar to the Dealer's Visor the Heavy received as a preorder bonus for the original Poker Night.
Claptrap's Table Effect:
When all Borderlands table items are in effect, Claptrap dons a moustache and top hat and a tuxedo paint job, similar to his attire when receiving his Character of the Year award during the 2012 Spike VGAs. Room effects include Moxxi's neon lights on the stage in the back. The conversation will often go to Pandora and life there, such as the vending machines which sell guns. Players who are eliminated will be shot by Steve with a confetti rocket before leaving the table, with the exception of Sam, who receives a startling tap on the shoulder. Winning the tournament will trigger a Borderlands-style "Mission Complete" screen.
Poker Strategy
Claptrap's a coward and a fool, and his poker strategy reflects this; his poker moves do seem to be the same as Max: random. He may either be cautious, aggressive or he may bluff. When Claptrap has enough money, he will attempt to bet loose-aggressively. Until then, he will fold frequently while waiting for a good hand (and if he has a good hand, he's going to try to go all the way to the end with it). He does seem to have a tendency to go all in when pressured and low on funds. He's also more difficult to read as his tells occur more rarely than the other characters', but he goes all-in at times he shouldn't, so he's likely to get knocked out by the other players.
Tells
When Claptrap tilts forward and his antenna droops, he is unhappy. This may indicate a bad hand, or disappointment at a flop.
Claptrap's arm-flaps may swing up in surprise when he is pleased. However, he is still prone to playing it safe early in the game, so this may become misleading.
Relationship with Other Characters
External Links